Andres Jimenez, designer from Mancandy didnt crawl, he born last season and suddenly start running. He has made a lot more things than old designers have done in his whole carreer. What makes Andy be the mexican fashion promise? first he has a extended education, he knows singing, photography, and many other disciplines that makes him be sensitive and he has a sense of esthetic and harmony.
Also he knows how to work, he is always on time with a great attitude and very respectful to his workers and that is always a plus. This collection was so much proffessional than his first, he continue using see trough fabrics but made everything with a lot more complexity, more cuts, more experimentation, and a great sense of color. It was fun, dynamic, fresh and is directed to a young client who loves looking good, not too shocking but yes impressive. It is one of the few designers who works as well with women and men clothes. You dont need to have a complete Mancandy outfit, each piece stands by itself.
Andres has a long way to go, many things to improve and many things to show to the world.
Andres has a nomination as best new designer at the Mexico Fashion Awards by Lycra.
Cover photo by DOMESTIC FINE ARTS (www.domesticfinearts.blogspot.com), runway photos by Diego Dino, see the complete collection and read the spanish version:::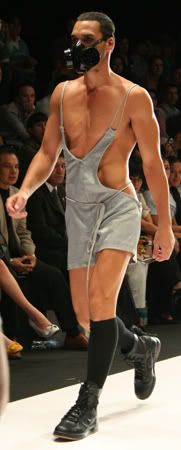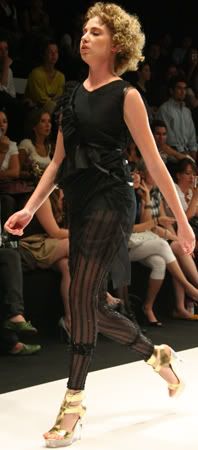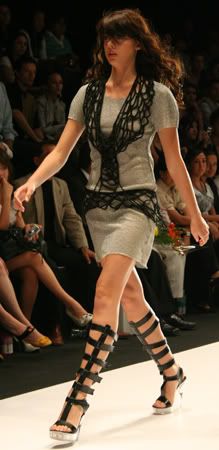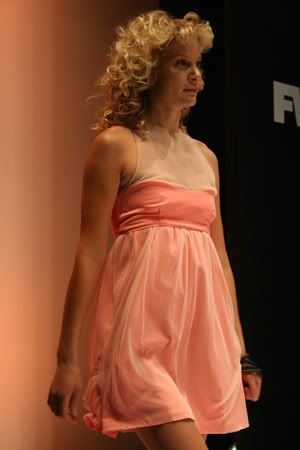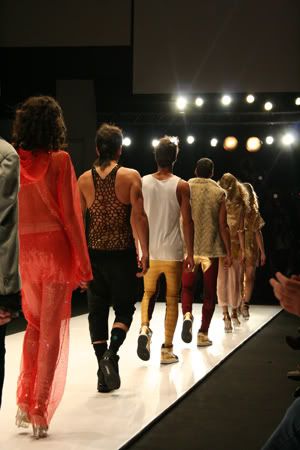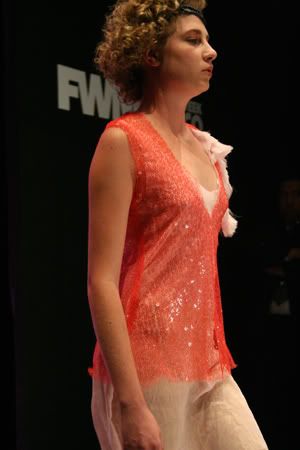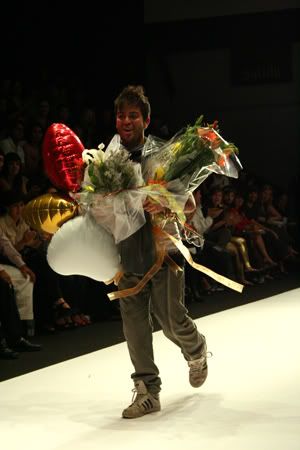 to buy Mancandy go to Clinica Store at sinaloa 252 esquina con veracruz, roma.
Andres Jimenez, diseñador de Mancandy no gateo, el nacio la temporada pasada y desde entonces ha corrido. Ha hecho mas cosas que muchos de los diseñadores ya posicionados. Que tiene Andy que lo hace ser la proxima promesa mexicana? en primera tiene una larga educacion, sabe de canto, fotografia y otras disciplinas que lo hacen ser sensitivo y tener un sentido de la armonia.
Tambien sabe como trabajar, cosa que se aprecia mucho en Mexico, siempre esta a tiempo y con muy buena actitud y es muy respetuoso con sus trabajadores. Su coleccion es mucho mas profesional que su primera, sigue usando telas transparentes pero todo con mayor complejidad, mas cortes, mayor experimentacion y un gran sentido del color. Fue divertida, dinamica, fresca y dirigida a un cliente joven que gusta de verse bien, no escandaloso pero si impresionante.Es de los pocos diseñadores que trabaja bien tanto la ropa de hombre como la de mujer. No necesitas tener un outfit completo, cada prenda es increible por si sola.
Andres tiene un gran camino que recorrer y mucho que mostrar al mundo.